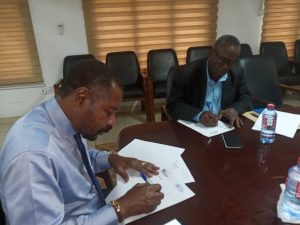 Kasa Initiative Ghana  has signed a Memorandum of Understanding (MoU) with the Private Enterprise Federation (PEF) to collaborate  on common projects  in the areas of Climate Change, Natural Resources and Environmental Sustainability.
Speaking at the signing ceremony, Mr. Charles Agboklu, the Chairperson of Kasa Initiative Ghana, stated that, the main aim of the partnership is to leverage on each other's strengths, and to take advantage of the emerging issues under climate change to develop projects  that respond to the needs of their members, rural communities and the nation .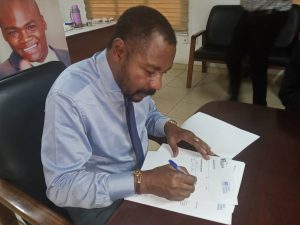 Nana Osei-Bonsu, the Executive Director of PEF , expressed his excitement on the partnership and applauded Kasa for coming up with such laudable initiative. He reiterated the importance of partnership between the Government, Private Sector and Civil Society  and the need for collaboration in combating climate change to building a resilient economy . He stated that, each partner have a critical role in ensuring the climate mitigation and adaptation polices of government on  is achieve by 2030.
https://www.pef.org.gh/index.php/en/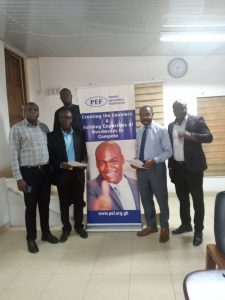 The signing took place at the office of PEF in Accra and was witnessed by the Coordinator of Kasa , Mr. Jonathan Gokah and other key representatives of both institutions.  Mr. Gokah expressed his gratitude to PEF for agreeing to the partnership and was optimistic that, the MoU would  be mutually beneficial to the activities and members of both institutions and help promote advocacy for  good environmental policies and sustainable businesses.
By: Evelyn Addor